Key-Link Fencing and Railing Horizontal Cable Rail Guide
Key-Link Cable Railing is a renowned for its elegant design, durable construction and installer friendly installation. This guide is designed to introduce you to the Key-Link horizontal cable system and its components. Whether you're a first-time installer or a seasoned professional, understanding the different elements that make up a complete Key-Link Cable Railing system is crucial. Our goal is to help you navigate through the selection process, ensuring you have all the necessary parts to bring your vision to life.
Railing Profiles
When starting your Key-Link railing project, the first decision is selecting the appropriate series based on the top rail profile. Key-Link offers two series for horizontal cable infill: the American Series and Chesapeake Series.
American Series: This series features a narrow, flat top rail with an elegant design, suitable for a range of architectural styles. Its sleek profile is ideal for a modern, minimalist look.
Chesapeake Series: The Chesapeake Series has a wide flange top rail designed to hold a deckboard or hardwood top, perfect for a drink rail or and incorporating your deck's design elements into your railing.
Both series are designed to complement each other, using the same posts and color options, which allows them to be used together in the same project. This compatibility provides design flexibility and ensures a consistent look throughout your space.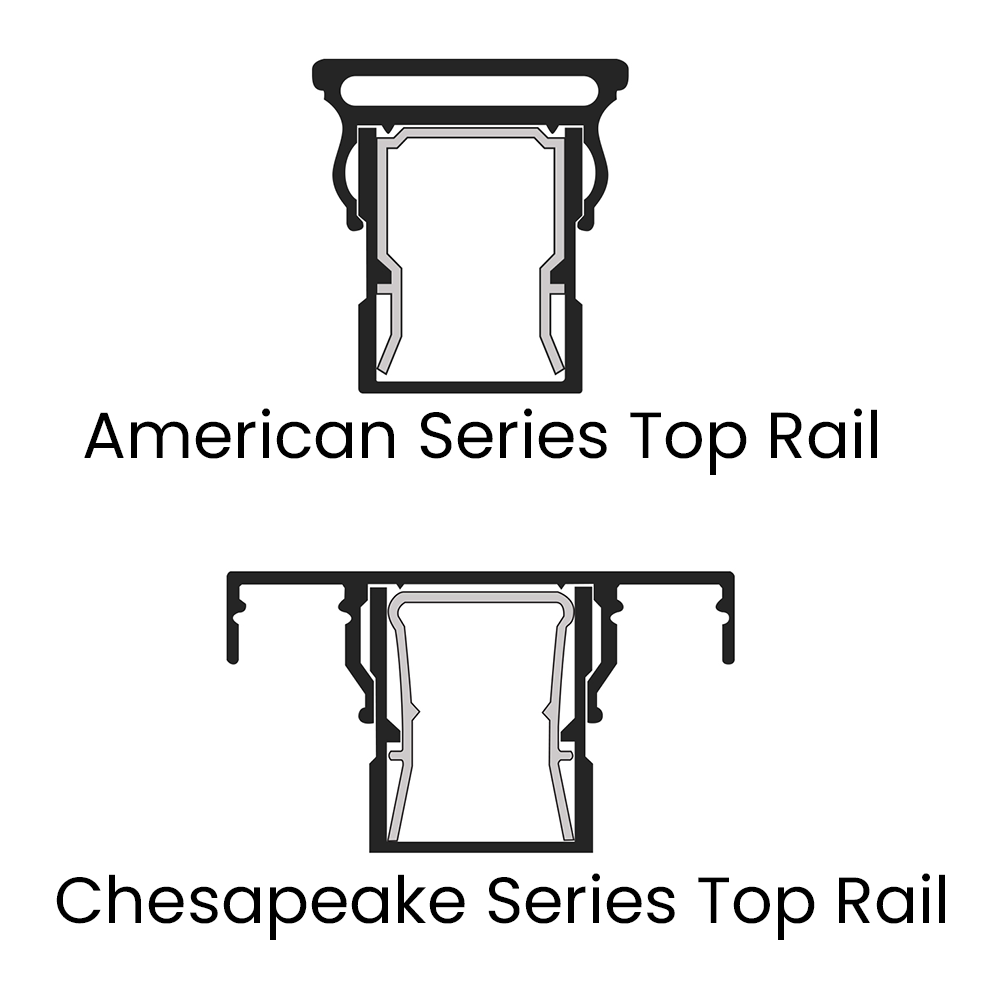 Cable Railing Posts
Key-Link's horizontal cable railing system is anchored by one of the most efficiently engineered cable railing post systems in the industry. These posts are integral to the system, significantly reducing installation time and enabling the longest cable span in the industry, reaching up to 100 feet. Additionally, Key-Link offers a variety of post sizes and mounting options to accommodate different design needs.
Key-Link offers posts in 2-1/2" and 3-1/4" sizes, with surface and fascia mount options, ensuring versatility in design and installation. Available in 36" and 42" railing heights, these posts can be used in both residential and commercial applications.
Post Options and Their Use Cases
End Posts

Ideal for terminating cable runs at the edges of a deck or balcony.
Pre-installed fittings for easy cable attachment, providing a clean, polished look.

Corner Posts

Designed for navigating cables around corners or transitioning down steps.
Stainless steel interior channels for smooth cable navigation, reducing the need for double posting.

Pre-Drilled Line Posts

Suitable for straight runs where cables do not need to bend.
Pre-drilled holes for quick and efficient installation.

Upgraded Line Posts (Transition Posts)

Perfect for complex layouts, including angled sections like stair tops or 45-degree bends.
Stainless steel channel designed to handle angled cables without damaging the coating.

Stair End Posts

Used at the end of stair runs.
Additional height to ensure bottom cable clearance over each step.

Predrilled Stair Line Posts

Utilized in line on a stair rail.
Features predrilled holes and additional height required for the cable to clear the nose of each step.
Key-Link's Bracket System for Horizontal Cable Railing
Key-Link's bracket system for horizontal cable railing offers a versatile and adaptable solution for a variety of deck shapes and configurations. Each bracket is designed to fit the notched post, ensuring it self-centers during installation for ease and precision. Here's a brief overview of the different types of brackets and their specific use cases:
Key-Link Bracket Types and Their Use Cases
Level Bracket Kits

Designed for flat runs. Necessary when a rail section is cut into two parts.
Each level rail section includes a set of these brackets, with additional sets available if needed.

Stair Bracket Kits

Specifically for stair railings, accommodating angles from 32-36° degrees.
Included with stair rail kits; additional sets required if a section is divided into two.

Horizontal Swivel Brackets

Ideal for level runs with flexibility for bends from 0-40° degrees. Suitable for corners or directional changes.
Can achieve a 45° angle with an additional 5-7° horizontal swivel wedge.

Vertical Swivel Brackets

Used for vertical angles between 0-30°, such as on ramps or stairs with deep treads.
Adaptable for various vertical angle requirements in railing installations.
Post Caps
Key-Link offers a range of post cap options to suit different styles and needs, available separately from their railing systems. The selection includes Flat Caps, decorative lighted options from Placid Point lighting and third party options from LMT Mercer.
Flat caps, which are favored for their modern, low-profile design are specifically designed to friction fit over Key-Link posts. This provides a tight seal and prevent them from being carried away by wind.
For those seeking decorative elements, Placid Point, a Key-Link brand, provides decorative and pyramid-shaped cast aluminum post caps, designed to harmonize with Key-Link's color schemes and design language. Placid Point also extends their range to include lighted post caps with low voltage options, featuring reflective halo lights and downlights.
Additionally, LMT provides an alternative with their lighted post caps, available in low voltage versions, designed to match Key-Link's finishes.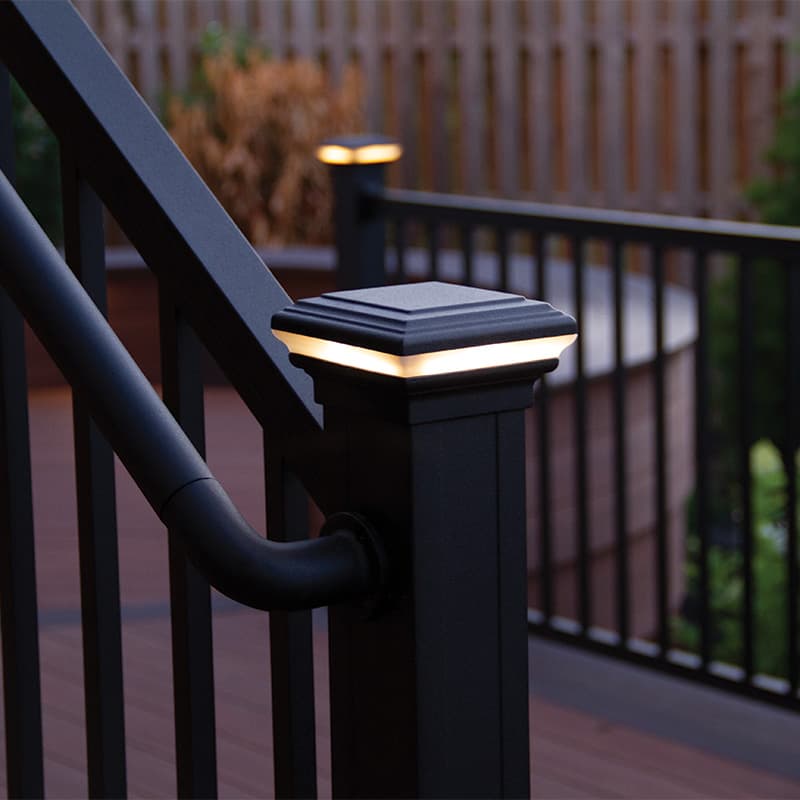 Post Cap Options

Flat Caps

Provides a low profile, modern look.

Placid Point Decorative Post Caps

Cast Aluminum.
Offered in Pyramid and Decorative Options.

Placid Point Lighting

Cast Aluminum.
Available in Pyramid and Decorative styles, in both Halo and Downward Lighted options.

LMT Lighted Caps

Third party lighting option available in both solar and low voltage options.
Powder coated to match Key-Link finishes.