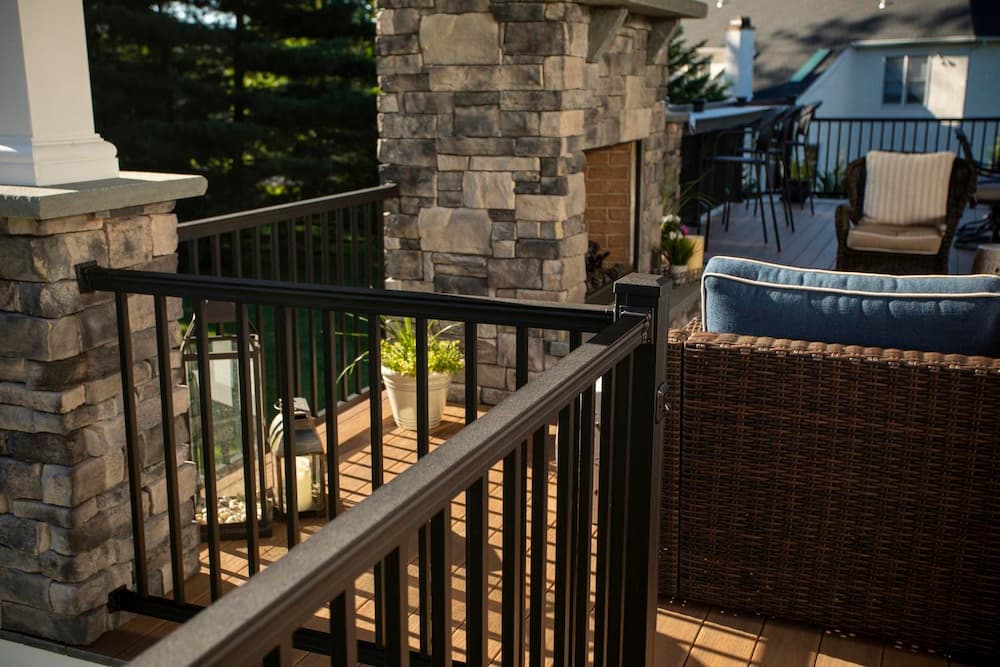 Aluminum Deck Railing Collection
Benefits of Aluminum Railing
Aluminum deck railings, with their powder coat finish, are more than just a protective feature; they also allow for customization of color options to suit personal tastes and design schemes. This makes aluminum railing a stellar investment for anyone looking to enhance the safety, durability, and aesthetic appeal of their outdoor spaces. Crafted from high-grade aluminum, these railings are corrosion-resistant, ensuring that they won't rust or deteriorate over time. This makes them a low-maintenance option that will save you both time and money in the long run. Their sleek and modern design not only adds to the overall look of your property but also increases its value.
Additionally, aluminum deck railing is incredibly versatile, offering a range of design options from sleek, modern lines to more traditional styles, making it easy to find a look that complements your home. Their lightweight nature also makes them easier to install compared to other materials, yet they are strong enough to meet or exceed building codes for safety. In summary, if you're in the market for a long-lasting, aesthetically pleasing, and easy-to-maintain railing solution, aluminum railings are an excellent choice.
Railing Collections
Key-Link American Series
Square Baluster
Key-Link is not just another name in the railing industry; it stands as a hallmark of quality and innovation. Known for being among the leading manufacturers of high-quality aluminum deck railing, Key-Link's product line has earned its reputation through consistent delivery of durable matte color options and aesthetically pleasing products. Their most popular offering, the Key-Link American Series with Square aluminum balusters, is a testament to this commitment to quality. This series offers a blend of modern design, robust construction, and ease of installation, making it a top choice for both homeowners and contractors. What sets Key-Link apart is not just the quality of their products but also the recognition they have received in the industry. They have been honored by Builder Brand as offering the highest quality railing, a testament to their relentless pursuit of excellence. When you invest in the Key-Link American Series, you're not just buying a railing; you're making a long-term investment in quality, safety, and aesthetic appeal.
Twisted, Hammered, Bowed and Round Baluster
One of the standout features of Key-Link's American Series is its customizable infill options, allowing you to truly make your deck railing system your own. Whether you're aiming for a traditional look or a modern aesthetic, Key-Link has you covered with a variety of baluster styles including Twisted, Hammered, Bowed, and Round. The Twisted aluminum balusters adds a touch of elegance, while the Hammered option gives a rustic feel. If you're looking for something that stands out, the Bowed baluster offers a unique curvature that adds a dynamic element to your railing. The Round baluster, on the other hand, provides a classic and timeless look. These options not only allow you to match the railing with your home's architectural style but also offer an opportunity to express your personal taste. With Key-Link's American Series, customization is not just an add-on; it's an integral part of the product offering, ensuring that your railing is as unique as you are.
Key-Link Outlook Series Square Baluster
The Outlook Series by Key-Link offers a unique blend of style, functionality, and affordability in its square baluster railing. Designed with a slim and sleek profile, this railing system doesn't compromise on quality, boasting the same thick-walled construction as the renowned American Series. Ideal for homeowners seeking an unobtrusive yet stylish railing, the Outlook Series seamlessly blends into various settings, be it porches, decks, or balconies, providing a fresh and contemporary look. Installation is a breeze, thanks to its user-friendly design, and the inclusion of vinyl inserts ensures a rattle-free experience. What sets this series apart is its color versatility; it is available in six on-trend standard colors, allowing homeowners to tailor their railing to both their personal taste and the architectural nuances of their home. With the Outlook Series, you get a high-quality, customizable railing system that enhances your outdoor living spaces while providing security and style.
Key-Link Chesapeake Series Square Baluster
The Chesapeake Series by Key-Link is a game-changer for those who love to entertain outdoors. Designed with social gatherings in mind, this railing system features a deck board top rail that serves as a convenient surface for guests to rest their food plates or drinks. This thoughtful design element makes it incredibly easy to host events on your deck, allowing you and your guests to focus on enjoying each other's company. But the Chesapeake Series doesn't stop at functionality; it also offers a range of customization options to suit your aesthetic preferences. You can opt for a coordinating top rail that seamlessly matches your deck, or you can make a unique design statement that reflects your personal style. With its blend of practicality and customization, the Chesapeake Series railing is the perfect addition to any deck where friends and family gather
Deckorators Rapid Rail Square Baluster
One of the standout advantages of Deckorators Rapid Rail system is its remarkable ease of installation, thanks to its drop-in baluster feature. You simply attach the top and bottom rails to the posts, drop in the balusters, and snap on the top cap. This streamlined process not only saves time but also reduces the chances of installation errors, making it ideal for DIY enthusiasts and professionals alike. The simplicity of the system allows you to focus on the aesthetic aspects of your deck, porch, or balcony, rather than getting bogged down with complicated installation procedures. In essence, this railing system offers a perfect blend of simplicity, efficiency, and reliability, making it an excellent choice for anyone looking to enhance their outdoor living space.
FAQ
What railing heights are available?
Aluminum Railing is available in 36" & 42"
Key-Link American Series vs Outlook Series
The American Series by Key-Link features a larger rail and baluster profile, offering a more robust and substantial look for homeowners. On the other hand, the Outlook Series comes with a slimmer profile and is also more budget-friendly, making it an attractive option for those looking for affordability without sacrificing quality.
Why Should I choose aluminum deck railing?
When it comes to choosing a railing material for your deck, various options like steel, wood, PVC, and composite materials are available, each with its own set of pros and cons. Here's how aluminum stacks up against these alternatives:
Steel
Advantages: Extremely strong and durable, can support heavy loads.
Disadvantages: Susceptible to rust, heavy, and often more expensive.
Why Choose Aluminum: Aluminum is lighter, easier to install, and naturally resistant to rust and corrosion.
Wood
Advantages: Natural look, can be painted or stained to match any decor.
Disadvantages: Requires regular maintenance like painting or staining, can rot or warp over time.
Why Choose Aluminum: Aluminum is virtually maintenance-free and retains its appearance for a longer time.
PVC
Advantages: Lightweight, resistant to rot and corrosion, and relatively inexpensive.
Disadvantages: Can look less natural, may become brittle over time, especially in cold climates.
Why Choose Aluminum: Aluminum offers a more robust and durable structure, and its aesthetic appeal is often considered superior to PVC.
Composite
Advantages: Mimics the look of wood without the maintenance, made from recycled materials.
Disadvantages: Can be expensive, not as strong as other materials, and can fade over time.
Why Choose Aluminum: Aluminum is stronger, more durable, and often more cost-effective in the long run due to its low maintenance requirements.
In summary, aluminum deck railing systems offer a balanced combination of strength, durability, and aesthetic appeal. Its low-maintenance nature and resistance to various environmental factors make it a preferable choice for many homeowners looking for a long-lasting, attractive solution for their outdoor living spaces.
What is included with aluminum deck railing kits?
Each of our offered aluminum rail kits includes a top and bottom rail, balusters, brackets, and fasteners. These components provide everything you need for a secure and straightforward installation between the posts.
What components make up an aluminum deck railing system?
Aluminum railing systems are typically composed of several key components that work together to provide both structural integrity and aesthetic appeal. These components include:
Rail: Rails are offer horizontal structure. They are included in each rail kit and are available in level rail and stair rail options, usually in 6' and 8' options.
Balusters: These are the vertical bars that run between the top and bottom rails. They provide the primary support structure and can come in various styles and designs.
Deck Posts: These are the vertical supports that hold the railing system upright. They are usually anchored to the floor or the side of the deck or stairs.
Brackets: These are used to attach the rails to the posts and can come in various styles, often designed to be hidden for a sleek look.
Fasteners: Screws, bolts, or other types of hardware used to secure all the components together.
Deck Post Caps & Skirting: Post caps and post skirting may need to be ordered in addition to the post. Some brands, such as Deckorators, include a cap and trim with their deck posts. Be sure to verify package contents when ordering.
Rail Supports: These are sometimes included in longer railing sections to provide additional support to the bottom rail, preventing sagging.
Each of these components plays a crucial role in the overall functionality and look of the aluminum deck railing system.
Can I cut Aluminum Railing?
Yes, it is possible to cut aluminum railing, and doing so is generally straightforward. You can use conventional tools like a miter saw with a carbide-tipped blade designed for cutting metal. It's essential to measure carefully before making any cuts to ensure that the handrail fits your space accurately. Always remember to wear appropriate safety gear, such as eye protection and gloves, to prevent any injuries during the cutting process. After cutting, you may also need to file down any rough edges for a smooth finish. However, it's crucial to consult the manufacturer's guidelines or installation manual for any specific recommendations or precautions to take when cutting their particular aluminum railing product.
Does Aluminum Railing Rust?
Aluminum handrail is highly resistant to rust, making it an excellent choice for outdoor installations where it will be exposed to various weather conditions. Unlike iron or steel, which can corrode over time, aluminum forms a protective oxide layer on its surface that acts as a barrier against rust and corrosion. This natural resistance to rust is one of the key advantages of choosing aluminum for your railing system, especially in humid or coastal environments where rust is a common concern.
It's essential to note that while aluminum itself does not rust, any fasteners or components made of other metals in the railing system could potentially rust if they are not appropriately treated or maintained. Therefore, it's advisable to check the manufacturer's guidelines for maintenance and to use aluminum-compatible fasteners to ensure the longevity of your railing system.
How do I clean Aluminum Railing?
Cleaning your Key-Link aluminum railing is a straightforward process that can help maintain its appearance and longevity. It's advisable to clean your railing at least twice a year, or more frequently if you live near water. To clean the posts and railings, use a microfiber cloth along with a recommended cleaner. If your railing has textured coatings, opt for a gentle, non-abrasive scrub brush.