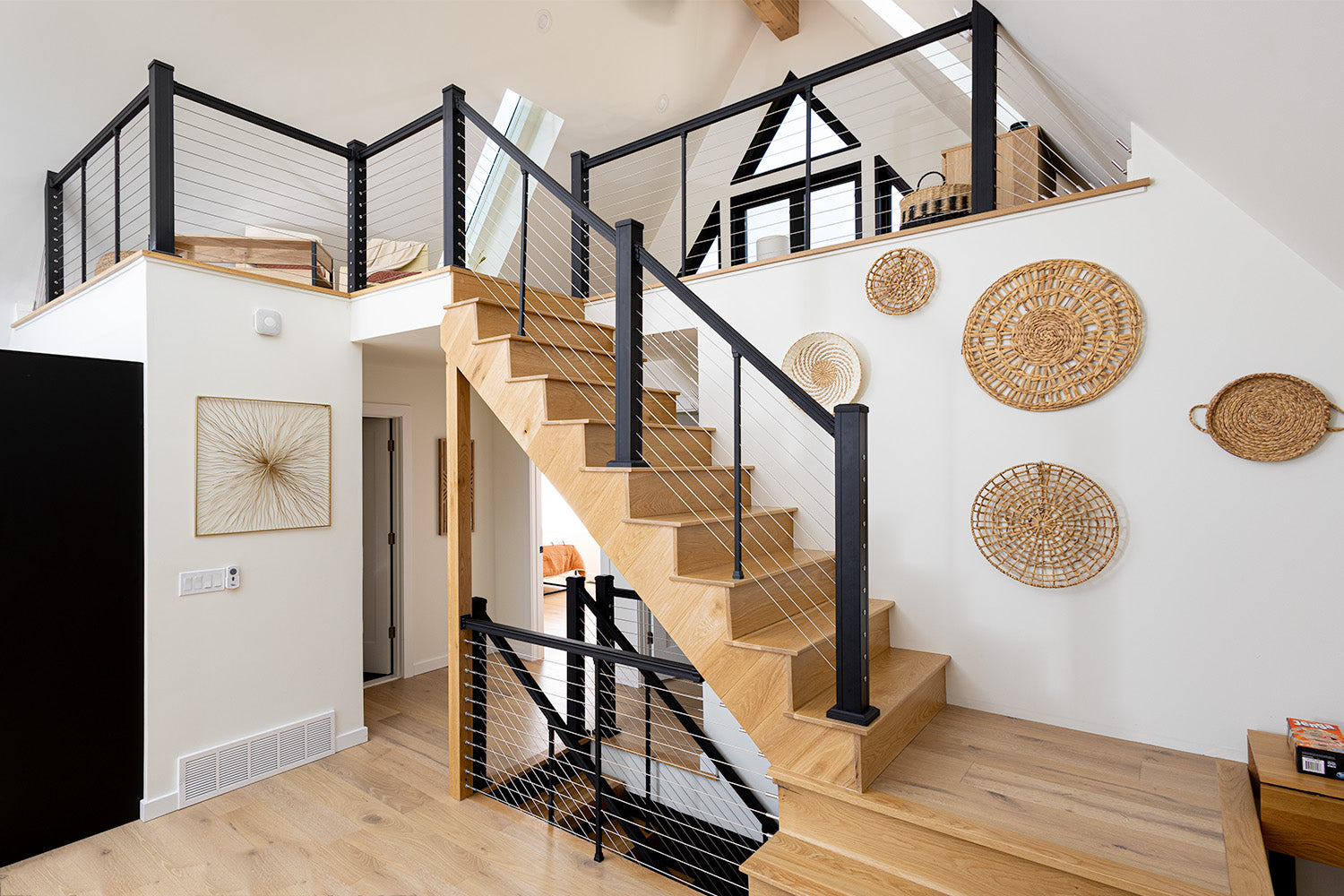 Cable Railing for Decks, Stairs and Balconies
Our Cable Railing Collection enhances the appearance of your space. It also ensures safety by offering high-quality products from Key-Link and Deckorators. Choose between Horizontal Cable Railing, Vertical Cable Railing, or DIY Cable Railing Solutions for your preferred view and installation satisfaction.
These railing systems are corrosion resistant. They are designed to withstand various weather conditions, promising longevity and reducing maintenance costs. Additionally, they seamlessly blend with nearly any architectural style or interior decor.
Choosing the right railing system can be challenging, but we understand the difficulties. That's why we offer a Railing Design Service to help you make the best choice for your space. Our team of experts will provide a personalized quote based on your specific needs and preferences.
Take the first step towards transforming your space today. Reach out to us for a free consultation and let's bring your vision to life. Our team is ready to assist you in designing a safe, stylish, and stand-out space.
What are the benefits of cable railing?
Cable railing has numerous advantages that make it an attractive option for outdoor environments. Thanks to its modern, minimalist design, stainless steel cable railings give your property a touch of elegance and sophistication.
The cables provide a near transparent view. The slim design helps you maximize the space on your deck, patio, or balcony. These posts and railings are powder coated and easy to install and maintain. They are a good option for those who want low-maintenance alternatives to wood or metal railings.
What are the different types of stainless steel cable railing?
Horizontal Cable Railing
Horizontal cable railing systems are the perfect choice if you're looking for a modern, minimalist look. This cable railing adds a modern touch to your outdoor area and allows you to see the world around you. Horizontal cable railings have a slim design that saves space on your deck or balcony, without being visually obtrusive. You can adjust the height and spacing of the railings to fit your needs with this customizable system.
Vertical Cable Railing
Vertical cable railing offers a host of advantages that make it a popular choice for both residential and commercial settings. One of its standout features is the ease of post-to-post installation, which simplifies the setup process and saves time.
Vertical cable railing is an excellent choice for families concerned about child safety. The vertical orientation of the cables makes it difficult for children to climb, providing an added layer of security. This feature offers parents peace of mind, knowing that their little ones are less likely to engage in risky climbing behavior.
Cable Railing with Drink Rail
For those looking to entertain friends and family, you may want to consider cable railing with a drink rail. A drink rail system allows you to attach a wider surface, often a deck board, to the top of the rail. This feature saves deck space by using the railing to hold plates and drinks instead of needing tables.
DIY Cable Railing
DIY cable railing hardware is easy way to transform your existing wood railing or create a custom rail. This system consists of bulk cable, cable fittings and line post channels.
This system works with pressure-treated wood posts, composite posts, or aluminum posts. DIY cable railing is an attractive and low-maintenance solution that is easy to install and aesthetically pleasing.
Is cable railing safe?
Yes, cable railing is a safe and secure choice for your outdoor space. When properly installed and maintained, cable railings generally provide safety and meet local building codes and regulations. People commonly use them in homes and businesses for decks, balconies, and stairs. However, it's crucial to follow any manufacturer Maintenace requirements to ensure ongoing safety.
Does cable railing meet building codes?
Yes, our cable railing options meets building codes for safety and structural integrity. Our offerings are made from high-quality materials that have been tested to meet stringent building codes and safety standards. For more information see our article on code compliance.
How do I install horizontal cable railing kits?
You can easily install a pre-designed horizontal cable rail in a few simple steps. Below is a brief step-by-step guide to help you through the process.
Step 1: Installing the Posts
Start by installing the posts, which typically come in various types such as end posts, line posts, and corner posts. Ensure that they are firmly secured in place to provide a sturdy foundation for the railing system.
Step 2: Installing the Rail Sections
Once the posts are in place, proceed to install the rail sections. These sections connect to the posts and provide structure and support for the cables. Follow the manufacturer's instructions to securely fasten the rail sections to the posts.
Step 3: Stringing the Cable
After installing the rail sections, it's time to string the cable through the posts and rail sections. To begin, insert the cable into the first post. Next, continue threading it through each post and rail section until you reach the end.
Step 4: Tensioning the Cable
Finally, tension the cable runs to ensure they are taut and secure. You can typically achieve this by using a set of gripping pliers and tightening the cable fittings of the end posts. Follow the recommended tensioning guidelines provided by the railing system manufacturer to achieve the desired level of tension.
How do I install vertical cable railing kit?
Installing vertical cable railing is simple and shares features with standard aluminum railing kits. Unlike its horizontal counterpart, vertical cable railing doesn't need special posts or intricate cable stringing. Here's how to install it:
Step 1: Anchor the Posts
Start by anchoring the posts securely, as they will serve as the main support for your railing system.
Step 2: Insert Support Rods
Next, insert stainless steel support rods into the vertical cable rail sections. Cut the cable to your desired length and insert the support rod into the rail section. Hand-tighten the flange nuts to lock the support rods in place.
Step 3: Attach Rail Sections to Posts
Attach the rail sections to the anchored posts. Follow the manufacturer's guidelines to ensure you fasten the rail sections securely, achieving proper fit and alignment.
Step 4: Tension the Cables
Tension the cables according to the manufacturer's specifications. Usually, you can adjust the tensioning mechanism within the rail sections to achieve this. Following the recommended guidelines ensures that the cables remain taut and secure.
What components do cable rail systems require?
Top Rail Kit
The 'Top Rail Kit' is an essential component of a horizontal cable rail system. This cable rail kit includes a top rail, intermediate balusters, and rail brackets. The top rail serves as the horizontal support and anchor for the entire railing system, providing strength and stability.
Cable Infill
Horizontal cable deck railing infill is typically available in two options: bulk rolls or specified lengths. Both options are made of 316 stainless steel cable.
Systems, such as Key-Link American Series Horizontal Cable Rail, use bulk cable. This lets you cut the cable to the right length and pre-install the needed hardware into the posts.
Systems, such as Deckorators ALX Cable Railing, utilize cable in specified lengths. These have hardware preattached to the cable and come with all the components required to terminate the cable at end posts.
Cable Posts
Cable rail posts play a primary role, serving as the key component that supports and secures the entire railing system. These aluminum posts have pre-drilled holes come in different types, including end posts, line posts, and corner posts.
End post used at the beginning and end of a cable run.
Line posts go between the end posts to keep the railing and cables strong and steady. These posts have holes already drilled, so threading cable is easy.
Corner Posts allow the cable to bend around a corner without the need of double posting or termination.
External Cable Fittings
External cable fittings let you attach cables to almost any surface like walls or existing posts. These fittings make your railing secure and give you more design options.
What tools are required for cable rail installation?
Cable cutters are necessary for cleanly and accurately cutting the cables to the desired lengths.
A cable release tool helps remove a secured cable for adjustments or replacements.
A threading needle is handy for guiding the cables through the railings and posts, ensuring smooth and precise installations.
Gripping pliers provide a secure grip when working with cables and fittings, making the process more manageable.
Additionally, we recommend using a tension gauge to ensure optimal tension. This tool helps prevent cables from being over or under tension, ensuring a safe and balanced railing system.
By having these tools on hand, you'll have everything you need for a seamless and efficient deck project.
Can cable railing be installed around corners?
Yes, cable railing can be installed around corners! While some systems require double posting at corners, we only support horizontal cable railing systems that offer a corner post. With corner posts, it's easy to make smooth transitions around corners without terminating and double posting.
How do I tension cable railing
Tensioning your cable railing correctly is crucial for a safe and balanced setup. Too little tension makes the cables sag and unsafe, while too much can damage the system and risk injury.
To get the right tension, you'll need gripping pliers or adapters, a tension gauge, and the right wrench for your system. First, remove any slack from the cables and attach them to the end post fittings.
Use gripping pliers to hold the cable steady while you tension it. Then, with your wrench, tighten the cable at the end post.
Use a tension gauge to make sure all cables have equal tension. Follow the manufacturer's guidelines to achieve the proper tension for a secure and balanced cable railing system.
For more detailed information, visit our article on tensioning cable railing.
How do I maintain my cable rail?
The recommended method is to wash the surfaces periodically with a warm water and non-abrasive, pH neutral detergent solution. Thoroughly rinse the surfaces after cleaning to remove any residue. Use a soft cloth, sponge, or soft bristle brush for cleaning, and avoid using a pressure washer exceeding 400 PSI. By following these guidelines, you can maintain the pristine appearance of your aluminum fencing and railing for years to come.
Stainless Steel Cable Infill Maintenance
Stainless steel is naturally resistant to corrosion thanks to its protective chromium oxide film. However, you need to perform regular maintenance to keep its shine and durability.
Improper care can lead to slight rusting or staining, especially near the coast. Luckily, these blemishes are easy to remove. For cleaning, use a rust and stain remover like Boeshield's Rust Free®. Avoid using mineral acids or bleaches on the surface.
After cleaning, apply a thin coat of Boeshield T-9® for waterproof rust and corrosion protection. It's important to avoid using sandpaper, steel wool, or scotch pads.