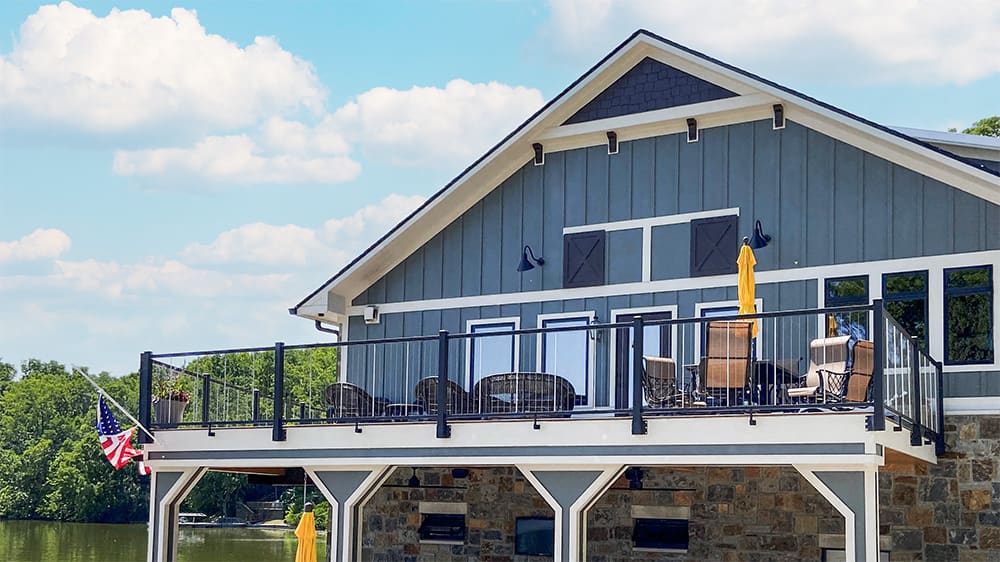 Key-Link Fascia Mount Deck Railing Collection
Fascia Mount Deck Railing: Maximizing Outdoor Spaces with Style and Safety
Introduction
Outdoor living spaces are no longer just an afterthought in home design; they have become integral areas for relaxation and entertainment. The right decking features can significantly enhance these spaces, and one such feature gaining popularity is the fascia mount deck railing.
Benefits of Fascia Mount Deck Railing
Maximizing Space and Views
Fascia mount deck railings are a preferred choice for homeowners and builders who wish to maximize their outdoor space. Unlike traditional railings that require space for post installations on the deck surface, fascia mount posts are side mounted, freeing up valuable deck space. This design not only creates a more open area but also offers unobstructed views, making it ideal for decks overlooking scenic landscapes.
Enhanced Aesthetic Appeal
The sleek design of fascia mount railings provides a modern, streamlined look that can elevate the aesthetic appeal of any deck. With a variety of finishes available, these railings can seamlessly blend with or accentuate the existing architecture and style of a home.
Components of Fascia Mount Railing
Versatility in Design
Fascia mount railings offer a variety of styles to fit any preference. The following components are needed to create a complete system:
Fascia Mount Railing
Square Baluster Railings: These railings provide a traditional, yet sophisticated look. The square balusters create a sense of solidity and timelessness, making them suitable for a range of architectural styles.
Horizontal Cable Railings: For a contemporary and minimalistic appearance, horizontal cable railings are an excellent choice. They provide an uncluttered view while ensuring safety and durability.
Vertical Cable Railings: Similar to horizontal cable railings in their sleek and modern appeal, vertical cable railings offer an alternative aesthetic. Vertical cable railing offers simple post to post installation and is great for families with children.
Fascia Mount Posts
Newell Posts: Newell posts are to be used with Key-Link's square baluster railing, and vertical cable railing. These posts allow the railing sections to mount directly to the post.
Horizontal Cable Railing Posts: Horizontal cable railing posts use a variety of post styles for different situations. The styles of cable railing posts can be seen here.
Fascia Mount Brackets
Fascia mount brackets are sold separately from the posts. Each bracket style is used for a specific purpose. The styles available are: Line Post, Outside Corner & Inside Corner.
Fascia Mount Railing & Safety
Compliance with Building Codes
Safety is a paramount consideration in the design and installation of deck railings. Key-Link Fascia mount railings are engineered to meet rigorous safety standards and building codes. Their robust construction ensures stability and durability, providing peace of mind for homeowners.
Installation of Fascia Mount Railing
Professional vs. DIY Installation
While professional installation is recommended for ensuring safety and compliance, our fascia mount offerings are designed with the DIY enthusiast in mind.
Considerations for a Successful Installation
Key considerations for installing fascia mount railings include ensuring the structural integrity of the deck fascia, proper blocking, and securing the fascia mount posts according to manufacturer instructions. It's crucial to consider local building codes and possibly consult a professional to ensure a safe and successful installation.
Conclusion
Fascia mount deck railings offer a perfect blend of functionality, safety, and style. They not only enhance the aesthetic appeal of outdoor spaces but also ensure safety and durability. With various styles available and straightforward installation options, they are an excellent choice for anyone looking to upgrade their deck or balcony. Whether you're a professional builder or a DIY enthusiast, incorporating a fascia mount railing system can transform your outdoor space into a stylish and secure area for relaxation and enjoyment.